This is an add-on module, available through an in-app purchase. It is used to calculate the mean kinetic temperature (Learn more).
Generally speaking, MKT is a calculated fixed temperature that simulates the effects of temperature variations in the product over a period of time. It is widely used in transport and storage of pharmaceuticals.
The calculation will show whether a product has exceeded the storage conditions or the storage, handling, transportation, etc. affected the product's lifetime.
This calculation requires some parameters.
ExpressThermo allows you to save profiles so you can use them recurrently, without having to introduce the necessary input values every time.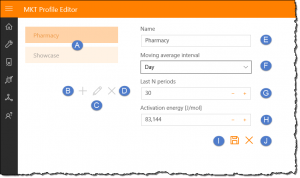 On the left side of this editor, you will see the list of all saved profiles, if any (A). Right below, you'll find buttons that allow you to add (B), edit (C) and delete (D) profiles. When adding a new template or editing an existing one, you will see its details on the right side of this editor:
the profile's name (E);
the moving average interval (F), which indicates the sampling interval;
last N periods, indicating the number of periods to be considered (newer), (G)
activation energy (H) appropriate to the product in analysis.
Based on these parameters, ExpressThermo will calculate the value of MKT. Pressing the 'Save' button (I) will make your changes effective and saved in the profile's file. This file will be placed in the templates folder (see Settings » Advanced). To cancel your changes or just to close the edition panel, press the cancel button (J).
Once you have saved your profiles, you can use them on the Main Page. Just download a logger or open a file with the temperature log data, reach for the commands bar and press the "Compute MKT" button, choosing the profile you wish to use.
You can check the calculation on the Statistics tab.